Web software
clearString or neatComponents
What's the difference?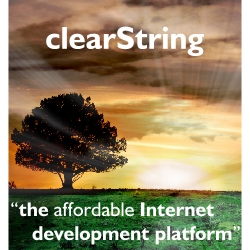 clearString, is the web development method, that makes it possible for people to make real Internet based businesses - without programming and without being trapped in predetermined template systems. clearString is ideal for the development of new Internet based businesses with low costs and high functionality.
neatComponents is the Windows based technical platform that makes it all possible.
clearString www.clearString.com
clearString is the scalable, enterprise rated, codeless Website Development software to make it simple to build, manage, host multiple data-driven websites on one Windows computer.
Each site is independent, on its own domain and every site has full Data, User & CMS Management: all without specialist knowledge or database skills, and without any programming at all.
Designed for use by commercial website developers, clearString is also the natural onward step for any users of WordPress™ or other online publishing systems who want more power and control without the pain and cost of programming and script writing.
neatComponents www.neatcomponents.com
clearString is powered by the neatComponents web development engine completely developed from the ground up by Enstar.
Unlike ordinary Internet development tools and simplistic Content Management Systems, the neatComponents system does not require any programming at all. You are protected from complexity: the neatComponents system cannot be broken.
All functions are managed using straightforward dialog boxes. Individual components can be used alone or in an unlimited number of combinations to produce the sites you require with the web applications you need, without ever having to write a line of code.
clearString and neatComponents
A clearString site is made up of 'components', each bringing unique functionality. From simple pages providing content management, through form storage, emailing, and searching and even ecommerce, the system covers all the requirements of modern commercial websites. By combining tens or even hundreds of these components, with easy drag-and-drop placement and configuration via dialog boxes, you can quickly construct sophisticated world-class websites or intranet sites. neatComponents is the web development platform that makes all this possible.
Manage Structure
Website data and other content is managed separately from the site structure.
Global changes to the site look can be made without changing site content.
Changes to the site structure automatically update navigation.
Multiple corporate divisions, languages and product lines can be maintained with minimum effort.
Manage Users
Integrated user management - Users and Users Groups with hierarchical controls.
User profile management is automated - logged on users can update thier own profiles.
Register users with registration codes and automatically enrol them in selected User Groups.
Item by item permission controls - pages that a user does not have permission to see are hidden.
Manage Content
Approval Controls provide full editorial control of changes to be made to any page on the website.
Workflow locking allows teams to work on the same site without the danger of overwriting each others work.
In-place editing for simple pages via a full-featured 'wysiwyg' Text Editor.
Structured-content editing via input forms gives total control over content and display.
Manage Data
Data input: Input Forms, Data Feeds, Multiple data types all with Standard or Secure Storage
Data structured on an exposed relational database with data queries, data joins and form links.
The Form-Query-View system for the construction of multiple data-entry pages with tight display control
Email integration via a built-in mail server provides Automatic form field embedding and Email on Event
neatComponents™ is built on a fully integrated, single, robust code-base. It provides integrated website, Intranet and Extranet hosting and all aspects of system management - including site-by-site Content Management and full per-division cost controls
All from one license: clearString will transform the way you work.
More information: www.clearString.com
Read more technical background at www.neatcomponents.com