Sempertron: End to end Encrypted Email
Secure email encryption for Enterprises, Organizations & SMB.
Private cloud hosting gives robust protection from prying eyes.
End to end encrypted email for everyone.
Sempertron is an email encryption system designed for businesses and organizations that need to secure their messages so that only the intended recipient can read them.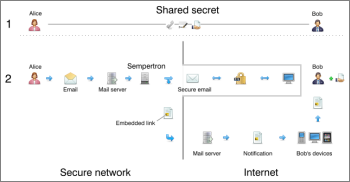 No special client software or plug-ins are required and messages originated using Sempertron can be securely read and replied to using any current desktop computer, tablet or smartphone.
Sempertron solves the usability problem
Messages that should be private are sent insecurely all the time because encryption has been too difficult. Sempertron solves that problem. It enables any company to securely communicate without relying on third-party Cloud services, or requiring their recipients to juggle cryptographic keys or install Active-X or any other plug-ins.
Sempertron email encryption manages the automatic account creation so that recipients can access their messages in the browser or web enabled device of their own choosing. Sempertron email encryption can run in high security mode requiring exchanged shared-secrets or in straight announce mode.
Read more at: www.sempertron.com
---
Mailtraq: the MS Exchange alternative
Organizations of all sizes need a reliable and flexible email system, and Mailtraq provides an ideal solution for most users.
Most people will have considered using Microsoft Exchange, however it's high license costs, hardware and operating system requirements, and high administration costs mean it is neither affordable nor suitable.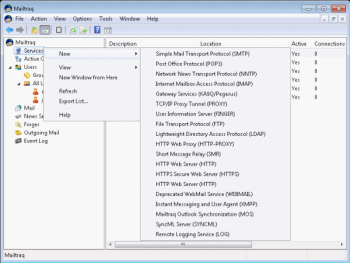 Mailtraq provides an affordable solution, without compromising on the power and flexibility you need. Furthermore, Mailtraq lets you escape from Exchange without having to move away from the familiar Windows operating system - there's no need to resort to Linux and the administrative complexity of Sendmail and the like.
Mailtraq is easy to install and gives a great return on investment - it runs as an email server on ordinary Windows systems. Mailtraq is quick and easy to operate - so there is no need for specially trained personnel, yet it still has the power features technical users need.
Mailtraq is ideal for organizations of all sizes, providing a solid messaging platform: email routing with virus detection, spam filtering, WebMail, and instant messaging.
Built with low Total Cost of Ownership as a priciple focus, Mailtraq 2.12 Professional assists with email compliance requirements. The system, suitable for even large Installations, is designed for organizations that need an effective, robust email server that helps them to meet email compliance regulations, whether for regulatory requirements such as Sarbanes-Oxley, HIPPA or SEC, for risk management, or to cope with the ever rising threats of law suits.

The advantages of using Mailtraq as an alternative to Microsoft Exchange.
Low license cost
Low total cost of ownership

A feature rich product
Anti-virus architecture
A standards-compliant system
Responsive development team
Worldwide reseller support
Read more at www.mailtraq.com